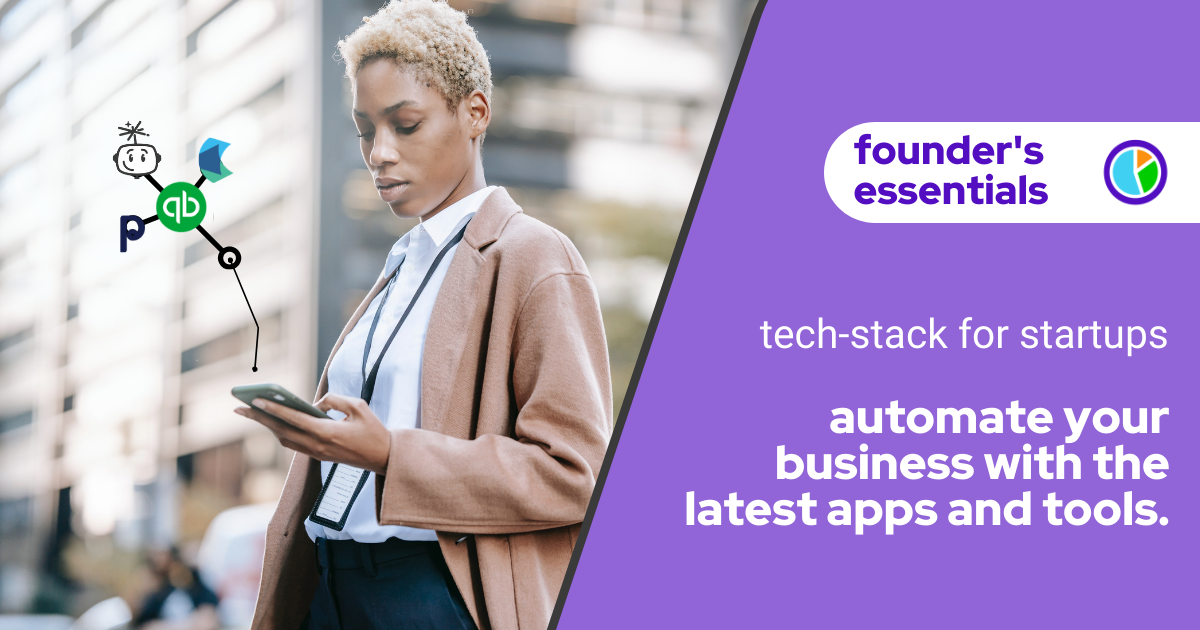 As a start-up, managing your finances can be incredibly difficult. With budgets, payroll, accounts receivable, and taxation, all posing unique challenges for you to manage, bookkeeping can be one of the most daunting roles as an entrepreneur. However, fintech-based accounting systems have started to simplify this process into easy-to-use software. As more and more specialized tools for each finance role are created, it may even be hard to keep track of which tools to use. In this article, we'll go through the top 8 essential financial apps and tools for start-ups and how they could potentially provide your venture with reliable process automation.

Developed by Intuit, a tax preparation firm trusted by millions worldwide, QuickBooks is an accounting service geared for small to medium-sized businesses. With QuickBooks, accounting is made easy, as transactions and journal entries can be automatically recorded into COA. With this systematic recording of entries, it makes it simple for a CPA to prepare financial statements and simple reports can be automatically generated through Quickbooks itself. Additionally, the software maintains audit trails, allows easy reconciliation and document review, and manages sales tax. With all these features available on an online platform, Quickbooks makes accounting simple to manage, as employees and accountants can have remote access to an organized record of all transactions and accounting documents.

With Hubdoc, managing financial documents is simple. As a business owner, you're likely receiving lots of receipts, bills, statements, and emails. All of these should be kept and organized to maintain sound records to keep track of your finances. However, with so many documents, they may be hard to keep track of. Hubdoc makes this process incredibly simple.
Hubdoc can automatically retrieve bank statements, bills, and receipts from 700 online vendors. Further, for paper documents, the mobile application can be used to extract data using optical character recognition. For example, scanning a receipt retrieves the vendor's name, date, and total amount – all to be sorted by Hubdoc. With this technology, you can save hundreds of hours in manual data entry and rest assured that your bookkeeping is fully organized with every source document.

Dext automates the accounting process to simplify accounting. By sorting through documents and integrating them with your accounting system, the program is a "smart" way to keep track of financial information. It will automatically sort and store your documents in the cloud after extracting the information required. With this information, Dext provides a business expense tracker to provide you with real-time insights as to where your venture's expenses are allocated.

Wagepoint is a quick and easy way to pay your employees. Without an automated system, you'd have to manually keep track of deductions, direct deposit information, and any additional income. However, Wagepoint takes care of the finer details and makes it easy by automatically ensuring that your employees get paid. For example, the platform automatically calculates and collects payroll taxes for every paycheque. Even better, it will assist with tax forms, paystub access, and payroll calculations – all rolled into one simple accounting software.

Plooto is a platform that simplifies accounts payable and receivable into a unified payments platform. You can ensure that your customers are automatically billed to collect one-time or recurring payments. On the flip side, it will make sure that your vendors are paid on time. These automated systems are made possible through pre-authorized debit agreements and easily customizable workflows. It even allows you to approve payments easily through the app or website. Combining Plooto with Xero or QuickBooks, you can sync bills, invoices, and payments with the bookkeeping records automatically – making accounts payable and receivable one less thing that you need to worry about.

Gusto is a one-stop platform for managing the finances behind a team, including payroll, employee benefits, attendance, hiring and onboarding, and analytics. The platform can automatically debit funds for payroll and process an automatic recurring payroll process. Further, it can manage benefits, such as healthcare. It allows your employees to enroll themselves and will allow you to set your employee contribution. Gusto makes it incredibly easy to manage a team – serving as a near-standalone HR solution for small businesses. For any small business, Gusto's services offer fantastic payroll and benefits management systems.

Bill.com integrates accounts payable and receivable into a highly powerful workflow. After converting bills into electronic records, bills can be approved by staff and paid electronically. You can even configure Bill.com to require multiple approvals for your bills so that multiple people are approving the bill payments in your organization. On the flip side, the software is also easy-to-use for invoicing and managing receivables. Overall, its features and sophistication make it an advanced accounting management system.

Qvinci offers financial reporting services to complement your accounting software. As an addition to QuickBooks, Xero, or Excel, the software can consolidate financial information to create P&L statements and balance sheets easily. As constructing financial statements may be difficult for entrepreneurs, Qvinci takes that worry away – generating financial statements at the click of a button for investors, clients, or even for your strategic analysis.
Built-For-Founders Tech Stack
Accountero is a full-stack financial solutions platform 'built-for-founders' who are hyper-focused on growth. As part of its mission to simplify bookkeeping, tax and access to financial experts, Accountero provides the best-in-class tax advisory listed above with all of its bookkeeping packages at no extra subscription fees.
About Accountero
Accountero is a one-stop financial hub for startups and growth-focused businesses that offers them digital bookkeeping, high-level reports, forecasting tools, and on-demand access to professionals like CFOs, tax advisors, funding experts and more. Accountero understands the needs of a growing startup and takes the pain of picking and choosing the right tech-stack essential to the business. Talk to us about your financial needs so we can help you to stay focused on your business growth, while our experts manage the finances.
Accountero is a tech-powered service provider offering bookkeeping, tax advisory and fractional CFO. Accountero is not a public accounting firm and does not offer services that require a public accounting practice license.